Tanaka Masatoshi Keio Ni Tora-bo Yokoya Yurakusai Sekibun
CLICK ITEM TO VIEW NEW LISTING
December 7 - Hoki No Kami Nobutaka Wakizashi
November 13 - Shinto Sukesada Wakizashi Sold
- Kunitsugu Wakizashi in Soten Style Koshirae
November 12 - Kumariotoshi Wakizashi Ujiyoshi
November 10 - Daido Tanto & Aiguchi Koshirae S Sold
November 8 - Kumagai Mitsumasa in Tanaka Style
November 4 - Daido Tanto & Aiguchi Koshirae Sold
November 3 - SALE Nagamitsu Gendaito
October 17 - New Information on DM0136
September 27 - Shodai Yasumitsu Wakizashi & Koshirae Sold
September 22 - Bungo Yamato no Kami Kuniyuki Sold
September 19 - Nanki Shigekuni -Nidai SOLD
September 15 - Mizuta Kunishige Cutting Test Sold
- The Alex Yablonsky Collection
September 11 - Juyo Yamato Tegai Katana
September 10 - Yamato Yoshimichi Ken
August 31 - Owari Ujinobu Wakizashi
August 27 - Ichihara Nagamitsu Tachi REDUCED
August 25 - Mumei Wakizashi in Shirasaya REDUCED
August 20 - Goto Senjo Tsuba Sold
August 9 - Soshu Hiromasa REDUCED
August 7 - Jakushi Tsuba
July 31 - Sasano Tsuba KoTosho #23
- Sasano Tsuba Ko Katchushi #39
- Sasano Tsuba Ko Katchushi #44
July 23 - Baby Needs Sale - Sold Out
July 21 - Shodai Fujishima Tomoshige Certificate Added
July 19 - Mitsumasa Kinko Tsuba Sold
July 16 - Mumei Katana
June 25 - Kyo Shoami Kirizukashi
June 21 - Ossian Collection Sailboat Tsuba
June 13 - Early Muromachi Flower Sukashi Sold
- Lundgren Collection Ko Katchushi Sold
May 30 - Goto Seijo Shishi & Peony Tsuba Sold
May 29 - Mumei Wakizashi in Shirasaya
May 23 - Ko Kinko Shakudo Nanako Tsuba
- Red Copper Tiger & Bamboo Tsuba Sold
- Ko Kinko Yamagane Dai Sho Tsuba
May 18 - Umetada - Kiku & Namako Tsuba
May 15 - Wakizashi Signed Nobukuni Yoshimasa in Koshirae
- Mumei Wakizashi in Samenori Koshirae SOLD
May 14 - Ashikaga Ko kinko Tsuba SOLD
May 12 - Bizen Masamitsu Naginatanaoshi Juyo Token
May 9 - Hayashi Tsuba SOLD
May 7 - Ko Kinko Shinchu Tsuba Sold
- Ko Katchushi Tsuba Addition information. Sold
April 27 - Seki Kanemune Wakizashi
April 24 - Masamichi Fuchi-Kashira Ossian collection
April 23 - Ko Tosho Tsuba - Nambokucho Sold
April 16 - Chrysanthemum & Matsudaira Mon Tanto Tsuba
April 15 - Ship tsuba Sold
- Edo Kinko Fuchi-Kashira Papered
April 14 - Shodai Fujishima Tomoshige Tanto
April 13 - Gardening Tsuba - Ossian Collection
- Chrysanthemum & Mon Tsuba - Ossian Collection
- Dragon Tsuba - Ossian Collection Taken Off Hold
April 11 - The J. C. Hawkshaw Collection by Henri L. Joly
- Nobuyoshi Shishi Tsuba Sold
April 10 - Mito Shibuichi Horse Tsuba Sold
April 9 - Hizen Kunihiro Wakizashi
April 8 - Seki Kanemune Wakizashi
April 2 - Momoyama Mukade Tsuba
March 29 - Mihara Masachika Wakizashi & Koshirae
March 25 - Red Copper Shishi Tanto Tsuba SOLD
March 24 - Kagamishi Dai-Sho Tsuba Sold
March 21 - Shodai Fujishima Tomoshige Tanto SOLD
- Dragon Tsuba - Ossian Collection SOLD
March 20 - Gassan Chikanori Shobuzukure SOLD
March 16 - Momoyama Kinko Tsuba HOLD
March 12 - Edo Hojoji Masahiro Katana SOLD
- Choshu Tomokiyo Dragon Tsuba
- Additional Information on Kinko Tsuba
March 11 - Kaibu Ujiyoshi Wakizashi HOLD
March 7 - Shigehiro Tanto SOLD
February 22 - NTHK Certificate Added To Myochin Tsuba Ossian Collection
- NTHK Certificate Added To Kozuka Ossian Collection
February 21 - Ichihara Nagamitsu Tachi
February 19 - Large Heianjo Zogan Tsuba - Ken Ossian Collection SOLD
February 15 - Goto Seiju (Mistushige) Fuchi-Kashira Ossian Collection
February 11 - Four Added From The Ossian Collection
- Aizu Shoami Tsuba SOLD
February 10 - Chicken Menuki - Ken Ossian Collection
- Dragon Kozuka, Iron - Ken Ossian Collection
- Samurai Mice kozuka - Ken Ossian Collection
February 9 - Ume Sukashi Tsuba - Early & Unusual
February 8 - Nobuiye Tsuba Correction Ken Ossian Collection
February 7 - Ko Umetada Chrysanthemum Tsuba
- Myochin Mokume Tsuba - Ossian Collection
February 6 - Yoshioka Menuki - Kanzan Hakogaki
February 5 - Hoan Tsuba - Early Edo SOLD
February 3 - Special Order Aiguchi Koshirae
- Munate - Additional information
February 2 - Goto Mitsunaga Fuchi-Kashira SOLD
- Mito Horse Fuchi-Kashira & Menuki
February 1 - Nobuiye Tsuba Ken Ossian Collection
- Aiguchi Wakizashi Koshirae SOLD
January 29 - Bungo Takada Katana SOLD
- The Kenneth Ossien Collection
* Hamano Noriyuki Tsuba SOLD
* Egawa Toshimasa Fuchi-Kashira
* Goto Mitsunaga Kozuka SOLD
January 23 - Mumei Shinto Wakizashi
January 22 - Daido Naofusa Katana & Koshirae SOLD
January 21 - Nami Sukashi Tsuba SOLD
January 20 - Ko-Uda Naginatanaoshi Katana SOLD
January 19 - Nambokucho Naginatanaoshi - Saiba SOLD
- Dai-Sho Added To Dale Meiners Collection
January 16 - Kenjo Tsuba pictures Improved
January 11 - Higo Silver Mon Tsuba SOLD
January 7 - Higo Hayashi Matashichi Design SOLD
December 28 - Large Early Design Akasaka Tsuba
- Red Copper Tea Ceremony Tsuba SOLD
December 27 - Higo Pine Tree Sukashi Tsuba SOLD
December 18 - Alphabet Namban Tsuba SOLD
December 10 - Bizen Sukekane SOLD
December 6 - Nobutaka Katana - Kansei 8, 2 - Mint Gunto Koshirae SOLD
December 5 - Nobutaka Tanto - Kansei 8, 2 - With Horimono SOLD
- Yokoya & Shozui Tanto Koshirae SOLD
December 3 - Ubu Ko Senjuen Tachi Reduced
December 1 - Excellent Monkey Namban Tsuba
November 28 - Higo Style Tsuba Correction
November 22 - Muneate
November 22 - Akita Shoami Tsuba SOLD
November 19 - Kamakura Yamato Senjuen Katana Sold
- Mounted Shinto Katana Taken Off Hold Sold
November 15 - Early Token Bijitsu - Hardbound 14 Volumes Sold
November 15 - Nobutaka Wakizahi - 8th Generation Hold
November 14 - Correction On Terukado
- European Style Namban Sold
- Terukado - Yoshisada Katana Correction & Price Reduction
November 12 - Tsuba Boxes - Inexpensive
November 11 - Correction & Addition
November 7 - Ants In The Snow - Massive Tsuba SOLD
November 4 - Five Added to Meiners Collection Tsuba List
* Gomoku SOLD
* Dragon
November 3 - Five Added to Meiners Collection Tsuba List
* Namban
November 3 - Five Added to Meiners Collection Tsuba List
* Dragon - Special Construction
* Dragon
November 1 - Namban Brass Dragon
October 31 - Ten Added to Meiners Collection Tsuba List
* Masafusa SOLD
* Tree Tsuba SOLD
* Shoami
* Shoami
* Ishime
* Dragon SOLD
October 29 - Ten Added to Meiners Collection Tsuba List
* Dragon
* Geese
* Heianjo SOLD
* Jakushi Landscape SOLD
* Choshu Masahisa SOLD
October 28 - Five Added to Meiners Collection Tsuba List
* Important Namban SOLD
* Nami
October 26 - Five Added to Meiners Collection Tsuba List
* Shoami
* Akasaka Moon & Grass SOLD
October 24 - Five Added to Meiners Collection Tsuba Listings
* Nobuiye - Must see. Not What You Expect
October 23 - Jakushi and Four Others Added to Meiners Collection Tsuba Listings
October 22 - Indian Namban SOLD
- Satsuma, Dai-Sho, Owari, Akasaka Added to Meiners Collection Tsuba Listings
October 21 - Warabashi Umbrella
- Myochin Nobuyoshi Tsuba S0ld
October 17 - We Are Now Up To 90 Meiners Collection Tsuba Listings
October 16 - We Are Now Up To 80 Meiners Collection Tsuba Listings
October 11 - We Are Now Up To 65 Meiners Collection Tsuba Listings
October 10 - Yasukuni Jinja Yasunori Sold
September 28 - The Dale Meiners Collection MORE ITEMS ADDED DAILY
September 16 - Utsushi Tsuba Sold
September 13 - Sukashi Kanji Tsuba
September 11 - Tsuba Reduced 20% TS0465 - TS0471
September 4 - Saotome Moku Tsuba
August 31 - Monju Shigesada Wakizashi SOLD
- Katchushi Mushroom Tsuba Revised
August 29 - Mumei Katana in Shirasaya Sold
August 27 - Jumonji Yari Hold
August 26 - Katana Signed Tadayoshi
August 23 - Large Nagasaki Tsuba
August 22 - Umetada Momoyama Windmill Tsuba Sold
August 20 - Fuchi-Kashira, etc. From Lohman Collection
- T0116 Higo Fuchi & Kurikata Sold
- T0117 Dragon Fuchi-Kashira Sold
- T0120 Mito Basket Weave & Shells
- T0121 Hamano Nara Fuchi-Kashira
- T0122 Torii & Pines Fuchi-Kashira Sold
- T0123 Mito Silver Basket & Shells Fuchi-Kashira
August 16 - Kyoto Tsuba After Soten
August 14 - Satsuma Masazane Wakizashi Sold
August 12 - Phoenix Boat Kozuka
August 11 - Kyosukashi Kirimon Tsuba Sold
- Namban Dragons & Tama Tsuba SOLD
July 28 - Juyo Ichimonji Revised
- Nagoyamono Turtle Tsuba SOLD
July 26 - Gambler's Dice Tsuba Relisted
- Bizen Yoshii Kiyonori Katana SOLD
July 25 - Peony Menuki
- Chrysanthemum Menuki - Muromachi
July 22 - Shakudo Nanako Fittings & Koshirae SOLD
July 19 - Soshu Hiromasa
- Gold Yoshioka or Yanagawa Menuki
July 17 - SUMMER SALE select tsuba - save 20%
July 14 - Edo Hojoji Shodai Josaku Wakizashi SOLD
- Two Collectable - Over Cleaned Tsuba SOLD
- Superb Main Line Goto Biwa on Water Kozuka
July 11 - Kaibu Ujiyoshi Wakizashi
- Imperial Chrysanthemum Sukashi Tsuba
July 10 - Very Detailed Ho-o Menuki - SOLD
- Important Shonai Shoami Seashell Menuki
- Mino Kozuka & Blade Price adjustment
- Saotome Chrysanthemum Sukashi Tsuba
July 9 - Mino Kozuka & Blade
July 8 - Shinto Mumei Katana In Koshirae SOLD
July 4 - Shakudo Sakura Tsuba
July 2 - Shinshinto Suketsugu SALE
July 1 - Uda Hirakuni Tanto SOLD
June 30 - Kaibu Ujiyoshi Wakizashi
June 25 - Akasaka Tsuba SOLD
June 23 - Soshu Hiromasa wakizashi
June 20 - Ozaki Suketaka Wakizashi SOLD
June 16 - Daisaku Terukado / Yoshisada Katana
June 14 - Mumei Shinshinto Katana
June 8 - Satsuma Masazane Wakizashi Sold
June 7 - Kawachi Kunisuke Wakizashi SOLD
June 3 - Dai-Sho in Mino Koshirae
June 1 - MAY SALE
May 31 - Ko Shoami Tsuba
May 30 - Shoami Matsudaira Mon Tsuba - Tekotsu
May 23 - Ubu Ko Senjuen Tachi
May 21 - Kanayama Relisted better pictures
May 19 - MAY SALE White to emphasize the purity of these deals.
May 17 - Kyoto Shoami Tsuba
May 15 - Chrysanthemum on Water Tsuba SOLD
- Owari Tanto Tsuba SOLD
May 13 - Kyo Shoami Sukashi Fans
May 12 - Oops! Kyo Shoami Mon & Ginger Tsuba SOLD
- Mounted Kwaiken (woman's knife). SOLD
May 11 - Kyo Sukashi Spider Tsuba SOLD
- Kyo Shoami Mon & Ginger Tsuba SOLD
May 9 - Atsuda Jingu Kokatchushi Tsuba SOLD
May 7 - Nijimei Kunisuke Wakizashi & Koshirae
May 6 - Bitchu Tachibana Yasuhiro Wakizashi
May 5 - Akasaka Tsuba SOLD
- Kanayama Tsuba SOLD
May 3 - Ko Tosho Tsuba Sold
May 2 - Yamato Senjuen Katana Sold
May 1 - Kinko Tachi Tsuba Sold
- Momoyama Heianjo Tsuba Sold
- Hizen Suketsugu now has NTHK papers
April 29 - Ishime Ito Sukashi Tsuba
- Awa Shoami Tsuba Sold
April 28 - Ko Tosho Tsuba Sold
April 12 - Tanto Koshirae Sold
- Sukesada Katana Sold
April 11 - Sasano Collection Ko Kinko Tsuba Sold
April 6 - Bizen Sukenaga Wakizashi Withdrawn
March 31 - Two Swords Taken Off Hold:
- Hojoji Masahiro wakizashi Sold
- Ko Mihara Wakizashi Sold
March 22 - Mounted Mumei Mino Tanto
- Wakizashi Koshirae Sold
March 20 - Signed & Dated Eisho Katana SOLD
March 18 - Suketoshi Kumariotoshi SOLD
March 17 - Early Onin Tsuba SOLD
March 16 - Armor REDUCED Sold
- Miyoshi Nagamichi HOLD
March 9 - Goto Page Added
March 9 - Monkey & Ox Menuki SOLD
- Nara Fuchi-Kashira Signed, Tou. SOLD
March 5 - Hotai & Ebisu Menuki SOLD
March 4 - Fuchi-Kashira Chinese Sages SOLD
- Fuchi-Kashira Signed Yanagawa Naomasa
March 3 - Shimosaka Suyari In Polish Sold
- Sendai Menuki SOLD
March 2 - Hizen Hirado Ju Suketsugu Katana
March 1 - Matsudaira Mon & Chrysanthemum Tsuba
- Sendai Kiyosada Dai-sho Tsuba
- Hizen Kunihiro Wakizashi SOLd
February 26 - Kishu Nobutoshi Mokume Tsuba Sold
February 25 - Early Muromachi Tsuba Sold
February 14 - Octagonal Mon Tsuba
- Shoami Octagonal Spoked Tsuba
February 3 - Kikusui Tsuba SOLD
January 31 - Monju Shigesada Reduced Sold
January 30 - Hamano Naoyuki Kozuka Fork Sold
- Mino Silver Kozuka Fork Sold
January 29 - Monju Shigesada wakizashi Sold
January 14 - Iron Mon Sukashi Tsuba
- Kyoto Warrior Tsuba SOLD
January 13 - Bizen Sukenaga Wakizashi REDUCED
January 9 - Kyoto Warrior Tsuba SOLD
Let me introduce myself, my name is Andrew Quirt. Some may know me from my tongue-in-cheek articles, as well as some of a more serious nature, that have appeared in various sword club publications. I have been collecting and dealing in Japanese swords and tosogu for the past fifty plus years. I served on he Board of the JSS/US for eight years; have been a member of the NBTHK for more than forty years; was the vice president in charge of the Americas for the European section of the NBTHK for three years; and working with Robert Benson, Paul Davidson, Mike Yamasaki, and others, and with the good will and efforts of Yamanaka San, Suzuki San, both of whom now deceased, and Tanobe Michihiro San of the NBTHK, was able to help form an American Branch of the NBTHK, (NBTHK-AB) in late 2002, which exists today as a non-commercial organization to promote the preservation, study, and appreciation of Japanese swords and their accoutrements. Nihonto.us is an independent commercial site that is neither associated with, nor endorsed by, any of the organizations with which I am or have been associated.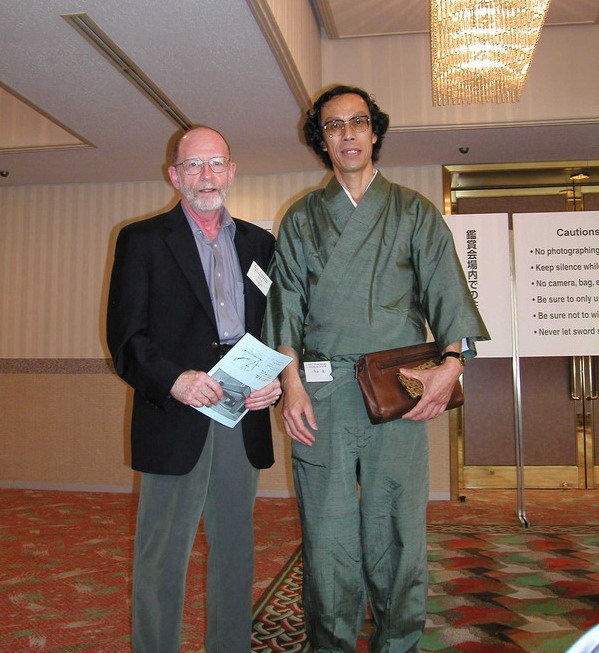 Andrew Quirt & Gassan Sadatoshi - 42nd NBTHK Convention - Tokyo
Terms of Sale
* Sales FOB Minnesota.
* Normal shipping through the post office and insurance are included in the price.
*Unfortunately, the costs of shipping have so increased, that I can no longer continue my policy of paying S & H.
* Federal Express, DHL, UPS, EMS, etc. will incur extra shipping charges.
* Three day, no penalty, inspection on every item within the United States. International shipments on a case by case basis.
* Returns must be in the same condition as shipped.
* Actual shipping costs will be charged on returned items.
* In the event that a returned item was paid for with a credit card or wire transfer, the actual processing fees will be charged.
* And, no, you do not have to offer a reason for return. If you simply did not like the item is reason enough.

Pictures and content may not be copied without the express permission of Nihonto.us