Sukeharu Katana
S0266
SOLD
A shinto katana in early shingunto koshirae. Signed, Settsu Ju Sukeharu. Shinogizukure, iroi mune, short chu kissaki, slight machiokure. Hawatare: 2 shaku 2 sun 6 bu 7 rin (68.7 cm. / 27.05"). Motohaba: 2.97 cm. Sakihaba: 1.98 cm. Kasane: 7.4 mm. An exuberant gunome notare midare in nie deki, there are ashi, yo sunagashi, kinsuji, hotsure, tobiyaki, nado. The jigane is a controlled itame with chikei and abundant ji nie, nado. There are no openings. There is unfortunately are chips in the middle of the blade that should be polished out. Everything is visible, but this sword deserves a proper polish.
Mounted in early shingunto koshirae with an iron saya. There is some minor wear and a few small rust bubbles as shown. There is excellent same and a silver mon on the kabutogane. The wrap is tight, and the handle has been removed five times in the past thirty-five years. I had looked at it thirty-five years ago, and the veteran's daughter removed it again when she contacted me three weeks ago. Her father, now deceased, had been on General McArthur's staff during the occupation.
Nihon To Meikan places Sukeharu in Settsu province around Enpo (1673 - 1681). He also signed, Settsu ju Minamoto Sukeharu, and Mino no Kami Minamoto Sukeharu. He was the nephew of Hanafusa Sukekuni. He is thought to be Kodo Hisasaemon. He can be found in Asaha Meijin (Kyoho 6 - 1722); Kokon Kaji Meishu Roku (Tempo 9 - 1838); Kokon Kaji Meisatsu Mida (Anei 3 - 1774); Kokan Kaji Biko (bunsei 13 - 1830); Toko Soran (Taisho 7 -1918).
I had been encouraged to separate the blade and the mounts to capitalize on the quality koshirae, but these belong together. $1,750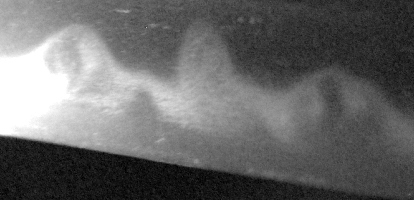 The rust at upper right needs to be cleaned before the habaki can be removed