Morimitsu Gendai Wakizashi
S0241
Reduced: $2,500
A manly gendai wakizashi signed, Hishu Ju Minamoto Morimitsu. Dated, Showa Kanotori San Gatsu Hi (a day in the third month of Showa, in the 58 year of the cycle), March, 1982. Shinogizukure, iroi mune, chu kissaki. Hawatare: 1 shaku 8 sun 1 bu 5 rin (55 cm. / 21.65"). Motohaba: 3.18 cm. Sakihaba: 2.39 cm. Kasane: 7.7 mm. Nio deki choji midare, saka choji, ashi, yo, hataraki, sunagashi, kinsuji, nado. The jigane is a rolling itame nagare, with pronounced multiple colored formations near the machi, reminiscent of Gassan, as well as some large tight mokume.
Mounted in shirasaya with silver foil habaki. There are no kanteisho. This came out of an auction of a large collection, and my guess is that the paperwork was lost.
The Toko Taikan values Morimitsu at 1,000,000 yen. He is listed in the Nihonto Meikan as a student of Yoshimitsu. He is listed in Token Bijitsu, Showa 24.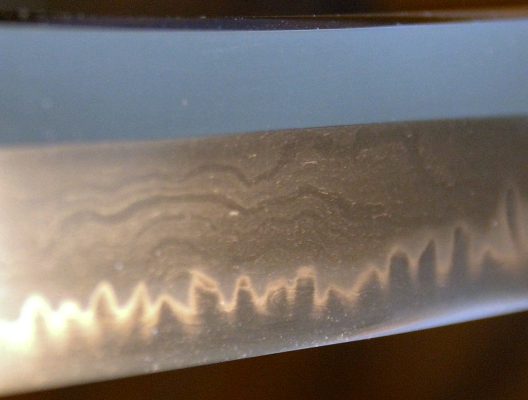 1200
761