Mihara Katana
S0268
SOLD
A nicely mounted, slightly machiokure koto Mihara katana. Shinogizukure, iroi mune, chu kissaki, sakizori. Hawatare: 2 shaku 2 sun 3 bu (67.57 cm. / 26.6"). Motohaba: 3.21 cm. Sakihaba: 2.2 cm. Kasane: 6 mm. Nioi deki chu ko gunome choji midare ashi iri. Kinsuji and uchinoke, nado. There is a strong shiraki bo-utsure. The jigane is hadatatsu slightly undulating masame with chikei, nado. In recent polish, mounted in shirasaya, with a gold plated one piece habaki. NBTHK Hozon kateisho.
The koshirae is mounted with a tsunagi. The tsuka is white jibara wrap with large shakudo dragon menuki, and silver fuchi-kashira decorated with indented dots -- like negative nanako. The saya is a textured slightly grey black lacquer, with copper kojiri and koiguchi. The iron tsuba measures 8.54 cm x 7.88 cm x 4.8 mm.
The sugata is a combination of Muromachi and Nambokucho. Were this not sakizori I would have thought undoubtedly Nambokucho. My guess would be late fourteenth / early fifteenth century.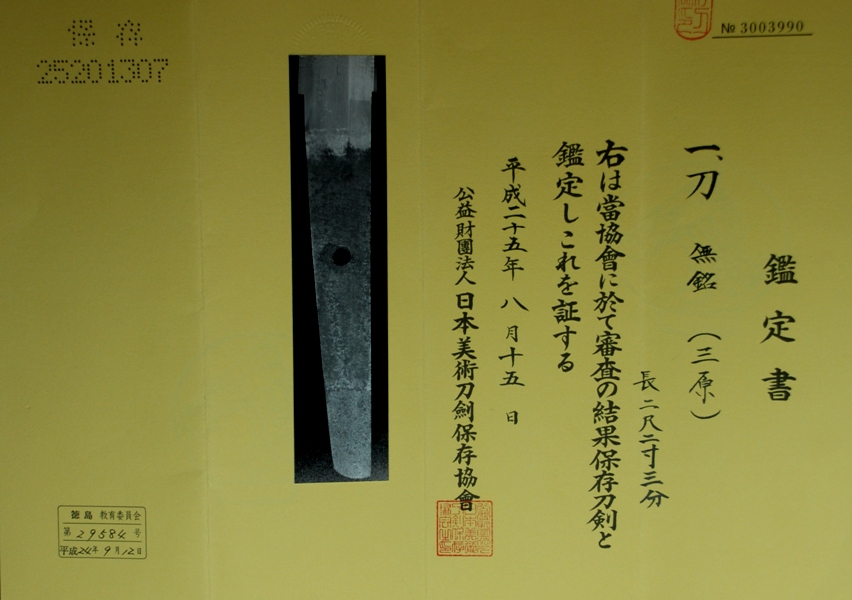 NBTHK Hozon Kanteisho
One Piece Gilt Copper Habaki