Wakizashi Koshirae
M0041
SOLD
A wakizashi koshirae with some excellent fittings, worth collecting for themselves. The same appears to be a single high class piece, with large nodules not the commonly added carved bone inserts. The fuchi-kashira are storm clouds, wind and lightening in iron, with granule tekotsu. The menuki are gold silver and shakudo. The kojiri is iron with a water dragon that almost looks Celtic in design. The small iron tsuba with shakudo and gold kiri, is wonderfully forged sand iron with outstanding granule tekotsu. Tsuba: 5.53 cm x 5.11 cm x 3.7 mm, and 7 & 8 mm at the turned over rim. The kojiri is clearly a replacement that is completely out of keeping with the rest of the koshirae. The red patterned saya is very good, but the black part at the top appears to have been poorly repaired. The kozuka and kogai pockets are lined with leather.
There is a tsunagi of a large hirazukure wakizashi with a nakago jiri like those seen in Echizen Seki. Hawatare: 1 shaku 2 sun 4 bu (37.6 cm / 14.8"). Motohaba: 3.12 cm. Kasane: 6.5 mm. The sori is approximately 8 mm.
Ideal for decorating, mounting a similar wakizashi, or collecting for the quality pieces of furniture. $800

Fuchi - Kashira
Kojiri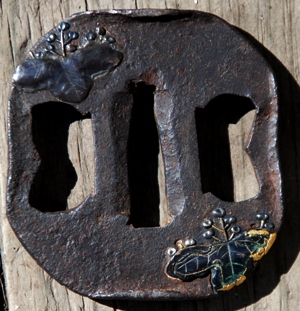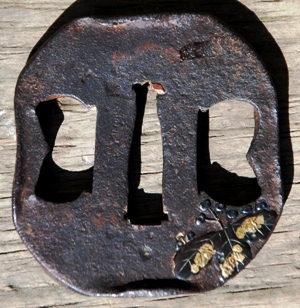 Shoami Tsuba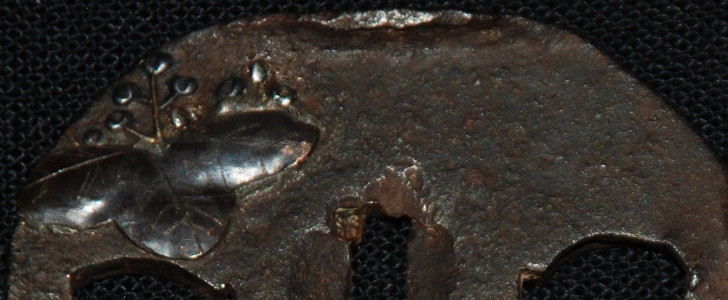 Granule Tekotsu


Granule tekotsu on the edge.

A stamp possibly a maker or shop mark.
An obvious replacement kozuka